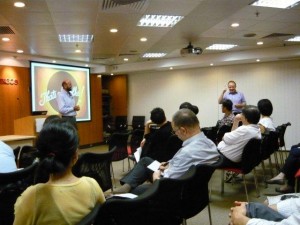 Dr John Dumay, presented a pragmatic and useful presentation, that was targeted to Intellectual Capital (IC) practitioners.
Some of the more useful and standout points (at least for me) were:
Entering into IC, is often done from the accounting perspective, which results in locking into an paradigm that can limit the effectiveness of IC in an organisation.  It can get "lost".
Strategic introduction of IC into an organisation allows "unlocking of IC" for real change and to enable individual managers and teams achieve individual goals.
Dr Dumay's study of IC within an Italian Utilities company, initially focused towards assessing whether measuring and report IC could aid in assessing whether the company is better fulfilling customer needs, during potential merger discussion that IC report was invaluable to assess fit and improve integration with a new partner.
Conclusion reached is that sometime a formal "accounting" approach to IC is needed, especially for new comers.
Undertaking a full company wide IC reporting project needs full management support.  If this level of support is not present it is possible and pragmatic to undertake smaller business unit or departmental approach to introduce IC practices.
I do believe that implementation of IC is company specific and you need to take stock of what is the reality within the company that you work, personally speaking I think you do need some measures and indicators, and these need to be carefully designed,  but this has to be balanced, overly complicated measurement approaches will inhibit real benefits.
Further perspectives from anyone is welcome.
The full PDF of the presentation can be found here (Dr John Dumay – Unlocking IC)
Photo's from the event can be seen Photo Gallery page.