Talk Synopsis
The best models we have for designing systems that create, sustain, and foster organisational learning and development are natural "learning organisations," like a rainforest or the human brain. The primary area of study and domain of action of Knowledge Ecology is the design and support of self-organising knowledge "ecosystems," in which information, ideas, insights, and inspiration cross-fertilize and feed one another, free from the constraints of geography and schedule.
This talk will address:
An intelligence-based view of the firm
How AI tools may power up the Collective Intelligence Enhancement Lab (CIEL) and related knowledge systems technologies
What next-generation learning organisations need to learn to make themselves more fully available to the benefit of AI-Enhanced Knowledge Ecosystems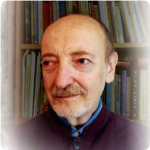 Facilitator: George Pór  
Date : Tuesday, 23rd October 2018
Time: 6:30pm until 8.00pm
Location: 22nd Floor, United Centre, Admiralty, Central
The talk will be highly interactive. It will outline the core idea of a current research project and provide space for exploring some of the "collective intelligence" distinctions in action.
The meeting is $200 for non-members and free for HKKMS & KMIRC members. Please reserve your place by registering below. Further details of the speaker can be found below.
Registration for the coming HKKMS/KMIRC event.
Recommended reading:
Nurturing systemic wisdom through knowledge ecology
From Right Mindfulness to Collective Intelligence to Collective Sentience
George's Bio
George Pór is a mentor & strategic learning partner to visionary leaders in business, civil society and national and international government agencies. He is the Managing Director of the London-based Community Intelligence transformation agency and faculty member at Meridian University.
He is a pioneer of collective intelligence research and the founder of Enlivening Edge, the online magazine and media hub of next-stage organisations, an invited presenter at IKMAP2018, an invited speaker at the 2nd China Organisational Evolution Forum, Shanghai, Nov 2-3, 2018.
George's past academic posts included: California Institute of Integral Studies, INSEAD, London School of Economics, UC Berkeley, University of Amsterdam, University of Ottawa, University of Paris.
His present research focus is: Action Research for AI-augmented Collective Intelligence for Reinventing Organizations.
He likes to co-create his talks with his audience and accepts related questions emailed in advance. He can be reached at george@community-intelligence.com.