Because of the dynamic 21st century learning environment and unsatisfiable information need of modern learners, we need to constantly fight and filter outside distractions. This requires redesigned ways to provide the right information that is available at the moment of need. Learners have the time and attention to consume only small bites of information. And breaking things into smaller parts makes information easier to digest, remember, and apply at work. Here smartphones open a channel for bite-sized content that is quick and flexible enough to be included around busy schedules.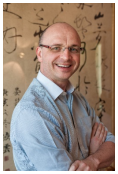 Facilitator: Maik (Mike) Fuellmann, 

Date : Thursday 8th November 2018

Time: 6:30pm until 8.00pm

Location: 22nd Floor, United Centre, Admiralty
Smartphones give rise to digital ecosystems that connect the dots of organization's people, tools, and processes. Like ecosystems in the wild, learning and development ecosystems need nurturing, interaction, and a supporting environment. Mobile technology creates opportunities for personalized content and learning paths. And also enables learning regardless of physical location. With this and learning management systems, trainers can measure the effectiveness of learning programs. This is essential to align training with both business and learning objectives.
Learners who are engaged simply learn more. Leaders today must rethink how they enable social and collaborative learning. Gamification captures the motivational power of games to solve real-world problems. It motivates learners and engages them with points, leaderboards and healthy competition. When mobile first countries use collaborative and gamified technology, they gain unparalleled access to social and engaging learning.
This talk will be highly interactive.
Topics: Changed Learning Environment (Mobile Phones, Distractions, Dropping Attention Spans, Fragmented information), Adaptive teaching methodologies for the generation smartphone, the ideal learner, mobilizing flipped classrooms and inquiry-based learning, virtual communities of learners in purposeful interaction and gamified competition, mobilized knowledge flows within organizations and institutions, Learning and workforce 4.0, transformation of existing e-learning platforms into a collaborative, adaptive and bite-sized learning ecosystems.
The meeting is $200 for non-members and free for HKKMS & KMIRC members. Please reserve your place by registering below. Further details of the speaker can be found below.
Maik's Bio
Maik (Mike) Fuellmann, is a Consultant at the Institute for Knowledge-Management and Innovation at Bangkok University (www.iki-sea.org) and CEO of the Hong Kong based Edtech start-up QUIZZBIZZ (www.quizzbizz.com)
He is also Doctoral student and lecturer in the fields of international business, knowledge management, innovation and entrepreneurship at Bangkok University and Stamford International University in graduate and undergraduate programs. Maik holds a degree as Master of Business Administration (MBA) of the University of Liverpool and several degrees in insurance industry (FCII, FDVA) where he used to work for more than 20 Years in leading management positions, e.g. as a board member or a German-Chinese life insurance joint venture. Since 2016 he advises the president of TRIS Corporation (www.tris.co.th) in the fields of innovation, new technology, e-learning and digital transition and speaks on various occasions mainly about innovation in education, training, knowledge management and mobile learning.