Certified Knowledge Professionals short course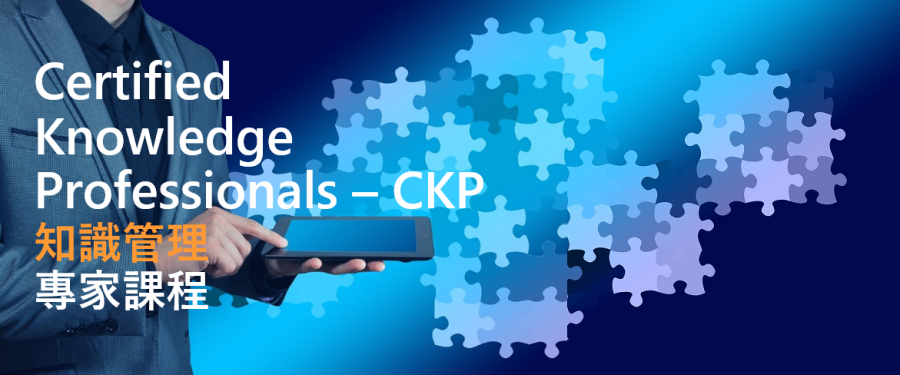 Certified Knowledge Professional (CKP) Short Course
This is a comprehensive training programme delivering the latest Knowledge Management (KM) methods and techniques. Illustrated through a series of practical examples, this programme will provide you with an in-depth understanding of KM principles and processes.
KM practitioners will be invited to share their knowledge and experience in the class so that you can gain a deeper understanding of the skills about KM implementation and enable you to develop relevant capabilities.
Don't miss this course if you would like to:
discover how to draw up a KM project blueprint and develop a KM strategy and implementation plan
meet local KM experts to learn from their KM project implementation experiences
Suitable for
Executives of government, non-profit-making organizations and commercial organizations, knowledge management personnel, human resources and training officers, holders of diplomas/professional qualifications or equivalent qualifications, or those with three or more years of working experience.
Focus of the Course
Essentials of Knowledge Management
Knowledge Risk and Assessment
KM Strategies (knowledge audit, intellectual capital reporting, performance measurement)
Knowledge Innovation (Nonaka's SECI model, innovative thinking models, innovation strategies)
Knowledge Sharing and Implementation (After Action Reviews, Story Circle, Knowledge Café, Community of Practices)
KM Platform and Technology (Knowledge Portal, Taxonomy, Business Intelligence and Decision Making)
Organization Learning (productive dialogue)
Application Deadline : 21st Oct 2019
Application form can be found at the end of this page
Course Details
Course Delivery Period: Nov to Dec 2019, Monday and Thursday, 6:45pm – 9:45pm
Final Presentation Date: 21st Dec 2019 (Sat), 9:00am – 6:00pm
Class: 12 classes
Language : Cantonese (supplemented with English), some classes will be delivered in English
Fee: HK$8,500
Venue : The Hong Kong Polytechnic University
Course details and leaflet: https://www.polyu.edu.hk/ise/kmirc/events/upcoming-events?eid=601
Enquiry: victor.hung@cio-connect.com
知識管理專家課程 (CKP)
知識管理專家課程主要教授知識管理的方法及技巧,透過一系列真實的例子,深入闡述知識管理的原則及過程。課程邀得知識管理從業員分享心得和經驗,讓學員深入了解實施與推行知識管理的技巧,發展相關能力。
若果你有以下想法,便不要錯過這門個程:
了解如何制定知識管理項目藍圖,並製定知識管理學策略和實施計劃
與本地知識管理專家會面,了解他們的實施知識管理項目的經驗
課程對象
政府、非牟利團體及商業機構的行政人員、知識管理人員、人力資源及培訓部人員、持有文憑/專業資格或同等資歷者,或擁有三年或以上工作經驗者均可報讀。
課程內容
知識管理的基本概念
知識風險成因及評估
如何制定知識管理策略
知識創新的技巧
知識分享的實踐和方法
知識管理平台與技術
如何建立學習組織
截止報名日期
2019年10月21日
課程資料
上課時間 : 2019 年11月至12月逢星期一和四,晚上 6 時45 分至 9 時45 分
終期報告 : 2019 年12月21日星期六 ,上午 9 時至下午 6 時
節 數: 12 節
授課語言 : 粵語 (輔以英語),個別單元會以全英語授課
學 費: 港幣 8,500 元
上課地點 : 香港理工大學校園
課程詳情和單張: https://www.polyu.edu.hk/ise/kmirc/events/upcoming-events?eid=601
查詢: victor.hung@cio-connect.com
申請表格/Application form
Please complete the following form to make your application.
Information provided will only be used in processing your application and will be sent to KMIRC of PolyU for communicating with you related to this programme. Personal data will not be stored or used for other purposes.